Top Countries With the Most International Students
By EasyUni Staff | Last modified 06 Sep 2019
Share this page with friends
(Source:www.topuniversities.com )
Which countries stack up?
Before we delve into some of the more personal reasons that most students consider when choosing a study destination, let's pull up some hard facts. We went straight to the source and pulled up UNESCO's statistics showcasing the top 10 countries with the most international students. These numbers include foreign students studying in all capacities - part-time and full-time, for both undergraduate and postgraduate studies. Short-term exchange students were left out of these statistics, so the actual number should actually be higher. 
Because we love our student community so much, we've gone above and beyond to also include world rankings of universities in the top 10 countries too. Of course, we covered only schools ranked in the top 100 that received 5 or more QS Stars. 
| | | | | |
| --- | --- | --- | --- | --- |
| Rank | Destination country | Total number of students | Universities ranked top 100* | Universities with 5/5+ QS STARS** |
| 1 | USA | 740482 | 30 | 16 |
| 2 | UK | 427686 | 18 | 8 |
| 3 | France | 271399 | 2 | 0 |
| 4 | Australia | 249588 | 8 | 12 |
| 5 | Germany | 206986 | 4 | 0 |
| 6 | Russia | 173627 | 0 | 0 |
| 7 | Japan | 150617 | 5 | 0 |
| 8 | Canada | 120960 | 18 | 4 |
| 9 | China | 88979 | 8 | 0 |
| 10 | Italy | 77732 | 0 | 0 |
*Statistics refer to QS World University Rankings 2015/16
**Statistics refer to  QS STARS which evaluates each institutions for the following criteria: Research, Teaching, Employability, Internalization, Facilities, Online/Distance Learning, Social Responsibility, Innovation, Arts & Culture, Inclusiveness, & Specialist
From the table, it's no surprise that the top countries are those traditionally seen as popular study destinations like Australia, UK and the US, all of which are known for their strong and world-class quality of education. America leads the pack with almost twice the number of foreign students compared to its neighbor across the Atlantic, the UK. That said, there can be many reasons for this trend, one of which could pertain to the cost of education, a topic which is especially relevant now with the weakening of many currencies from developing economies. So, let's have a look at what it would cost to study and live abroad at some of the popular study destinations, shall we? 
Cost of study abroad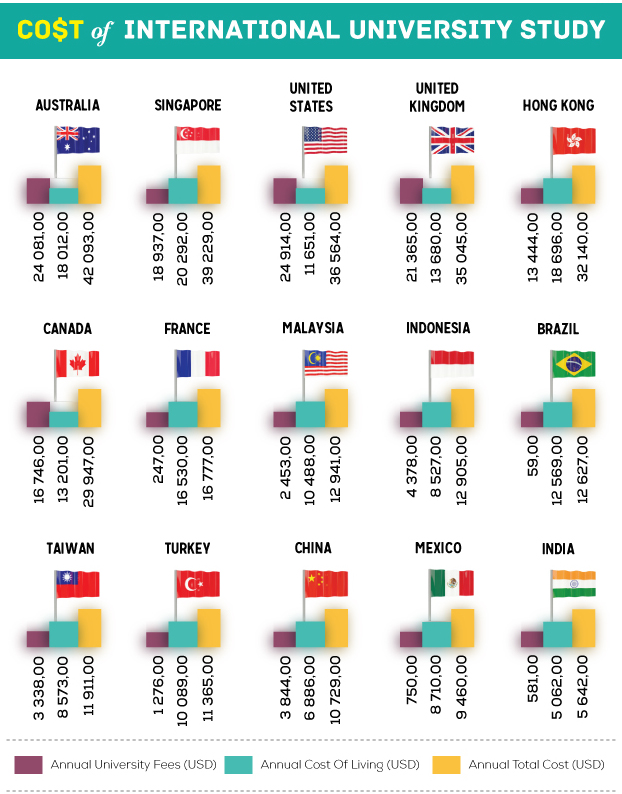 (Source:www.easyuni.com )
Yes, we know that on top of college reputation, quality and courses offered, for the most part, affordability plays a big part. One of the most popular questions we receive always come back to not only tuition fees, but more so the cost of living, as these costs can sometimes be variably higher than college fees. As the image above suggest, countries with a stronger calibre of universities come with a higher price tag. However, fret not; you still have a chance to study abroad in countries that you may not have considered before. Try Brazil, China, Turkey or Taiwan; you might be surprised that some schools in these countries are accredited and highly-ranked and regarded, with world-class facilities.
Other Reasons
(Source:www.uloop.com )
There are many reasons why students choose to study in selected countries. It could be  fascination with the cultures and practices, the opportunity for travel, good support of financial aid, opportunity to work of a combination of many reasons. The final decision to study in a certain country is a matter of personal choice, so take a look at the extra reasons to study in our top 5 popular countries. 
#1 USA
You can move between colleges via credit transfers.
You can have classes in English.
You can get for scholarships or study loans as an international students in most of the universities in US.
If you have outstanding results, you might get a free education.
You can work part time even with your international students visa.
You are legally allowed to work for a year in US on completion of your degree.
#2 UK
Shorter time to complete your degree compared to USA.
You can have classes in English and thus improve your English skills.
You are allowed to work up to 20 hours per week during term and full-time during the holidays with certain T&C.
You can get scholarships to support your study financially.
#3 FRANCE
France has been voted as the best study destination by QS (Quacquarelli Symonds Company).
Same tuition fee and students benefits (subsidiary, students discount etc.) for both local and foreign students.
You can learn French.
You can have classes in English or French.
You can work while studying at France with a maximum of 964 hours per year. If you are not an EU/EEA students, you'll need to apply for Autorisation Provisoire de Travail (ATP) first.
#4 AUSTRALIA
You can complete your studies in English.
Foreign students can work up to 40 hours per fortnight.
Similar to the UK and USA, Australia is a multicultural society that welcome international students from all over of the world.
You can apply for scholarships from several Australian government scholarships to individual university scholarships.
Australia has been voted as the top 10 safest and liveable cities (Melbourne & Sydney) by Economist Intelligence Unit's 2015.
#5 GERMANY
Free education for undergraduates studies at public universities, and cheaper postgraduates tuition fees compared to other Europe country.
You can learn the German language as it's almost a compulsory course in all universities.
Many of scholarships for international students, such as The German Academic Exchange Service (DAAD) and much more.
With your student visa, you can work at a total of 120 full or 240 half day in a year while studying.
Germany is a high security community and keep you safe.